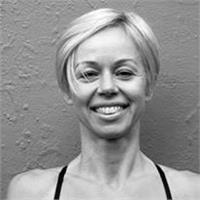 Alison is an inspiring teacher, known for her dynamic style. She has a keen eye for observation and a depth of knowledge steeped in 10 years of teaching and 15 years practice. Through her creative sequencing, clear cues and personal encouragement, she guides students deep into their body with great awareness.
Alison discovered ashtanga yoga in London, whilst seeking sanctuary from corporate life. Searching for meaning in life and relief from daily suffering, she found in yoga calmness of mind, confidence and a strong feeling of being centred. She moved to Sydney in 2000 and after having two beautiful babies (now teenagers) and found herself at Bikram Yoga Teacher Training, which gave her discipline and awakened her curiosity for a deeper exploration of her self. Soon after, she completed Power Vinyasa trainings with Baron Baptiste and Power Living Australia, learning the power and grace of moving with the breath. Her enquiry continued on immersions and trainings in Anusara, Haha, Iyengar, Smartflow and Forrest Yoga styles which brought more strength, skilfulness and mindfulness to her practice and teaching.
"The practice of yoga has become an integral part of my healing and transformation. As a teacher I see myself on this journey of self-discovery with my students."
Alison has studied with many renowned yoga teachers, including the four who have the greatest influence on her teaching: Noah Maze, Annie Carpenter, Maty Ezraty and Ana Forrest.