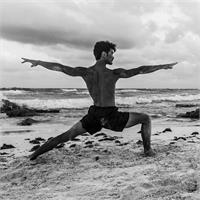 View Simon's classes
Simon Park began his yoga journey in 1995 with Shiva Rea in the World Arts and Cultures Department at UCLA. Dubbed 'The Flying Nomad' by his teacher Shiva Rea he was named by Yoga Journal as 'one of the most influential and gifted, next-generation yoga teachers'. He draws inspiration from road legends such as Keith Richards and Jack Kerouac. Before setting up permanent home here with us in Sydney, Simon roamed the planet in search of radical nature and revolutionary characters.
Simon's classes are challenging, playful and creative.