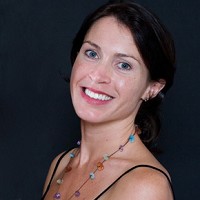 View Tabitha's classes
Nutrition plays an important role in virtually every medical condition. Many health problems can be reversed or improved by following Tabitha's practical and sensible advice.
"My mission is to achieve the best results for my patients by working closely with each individual towards their unique health goals, helping each live life to their fullest potential. On a larger scale, I wish to play a role in creating a healthier world by empowering as many people as possible to take positive action regarding their health."
Having attained a Bachelor of Medical Science in the 1990's, I went on to pursue my passion for Natural Health Care with post-graduate studies in Naturopathy, Herbal Medicine, Nutrition and Environmental Medicine.
In my practice now I elegantly combine the above approaches to health: integrating Naturopathic Healing Principles with the latest scientific research, to educate you on creating the diet and lifestyle that best suits your particular needs. I firmly believe in guiding, educating and empowering you towards better decisions that promote and restore your own unique health goals, with an emphasis on prevention.
I am truly committed to my patients and their well being
My areas of focus are:
Pre-conception and Pregnancy Care
* Labour Preparation And Post-natal Support
* Newborn Care and Children's health
* Informative dietary assessments
* Digestive disorders eg. IBS, bloating, constipation, food sensitivities, reflux
* Detoxification
* Women's reproductive disorders
eg. Polycystic Ovarian Syndrome, Endometriosis, Pre-menstrual symptoms
* Stress & Anxiety
* Fatigue
* Blood sugar imbalances
* Weight loss
* High Blood pressure & High Cholesterol
My work also encompasses general health issues, disease prevention & wellbeing.