200 Hour Teacher Training: Full-Time October 2017
Home 200 Hour Teacher Training: Full-Time October 2017
BodyMindLife has a considerable history of educating empowered individuals who personify the evolving spirit and tradition of yoga. 200 Hour Yoga Teacher Training will provide you with the knowledge and skills to teach with confidence and poise, awakening a deep self-knowledge and life-long curiosity for learning. Your journey starts October 4, 2017!
For a copy of our free Teacher Training Handbook or to apply for this course please email teachertraining@bodymindlife.com – we'll be back with you within 72 hours.
Philosophy and Methodology: Our progressive approach to training incorporates both Eastern and Western science and spiritual tradition, with Taoist (Yin/Yang) philosophy, Ayurvedic wisdom, and a modern understanding of the human body and consciousness.
With our 200 Hour Teacher Training Curriculum you will:
Become a certified yoga teacher, accredited by Yoga Australia and Yoga Alliance
Build your teaching skills with personal feedback and coaching
Understand how to intelligently sequence and lead a class
Explore yoga history and philosophy
Learn the safe and classical alignment of the poses
Strengthen your personal physical, mental and emotional practice
Practice breathing and meditation techniques to help manage stress and anxiety
Study the principles and application of anatomy and physiology
Learn to observe bodies and give safe hands-on adjustments
Dive into the business of yoga and find out how to thrive as a teacher
Receive support and guidance through teachers' practices, assisting programs, guest teachers and ongoing education
Our Teaching Team: Teacher Training is led by Noelle Connolly and Kat Clayton and enriched by the knowledge of expert guest teachers.
Noelle Connolly: Noelle's powerful and creative teaching creates space for students to pursue their practice with vigour and drive. A technical teacher, she is passionate about form and endlessly inspired to harness the subtleties of the energetic body to defy gravity and move fluidly through space. Noelle gives her all to her students, with strong, challenging and intelligently sequenced classes created to engage, inform and inspire. She feels honoured and blessed to share the knowledge of her teachers and mentors, including Maty Ezraty, Shiva Rea, Joan Hyman and Simon Park, in an authentic way.
Kat Clayton: Kat has a natural engaging teaching style which radiates positive energy and warmth. She provides a safe but challenging space for students to open and connect body, mind, and heart through the practices of yoga and mindfulness. Kat holds a degree in Psychology, and completed her first 200 Hour training at BodyMindLife nine years ago. She is inspired by many teachers including Maty Ezraty, Simon Park, Baron Baptiste and Janet Stone. She combines over 10 years experience teaching yoga, dance and snow sports with her passion for empowering students to focus on the subtle energetic alignment, philosophy, and mindfulness. The transformative power of the practice combined with a deep love for facilitating wellbeing at all levels compels Kat to support others on their yoga journey.
Course Dates: 7am-5pm from Wednesday, October 4 to Sunday, November 5, 2017. The program takes place over one month, running from Monday to Friday with weekends free excluding the Final Assessment weekend.
Practical Assessment: Friday, November 3 to Sunday, November 5, 2017
Written Assignments Due: Friday, December 1, 2017
Graduation Ceremony: Friday, December 15, 2017
Investment: $3590 | Early Bird: $3290 (paid in full by August 4, 2017)
How to Apply: Complete the online application form. You'll be informed of your acceptance within 7 days. Upon acceptance, payment of a $300 deposit is required to confirm your place. This can be paid by clicking the yellow Book Online Today button.
Accreditation: BodyMindLife's 200 Hour Yoga Teacher Training program is accredited by both the internationally recognised Yoga Alliance and Yoga Australia. To become certified as a yoga teacher with Yoga Alliance you must complete an accredited 200 hour teacher training. Yoga Australia requires the completion of 350 hours of training.
Attendance Policy:
100% attendance is expected, with a minimum of 95% required to gain certification
Any planned absences must be pre-approved by the course director. Arrangements must be made to make up missed sessions with private tuition at your own cost
If you are ill must call the program coordinator at least 30 minutes prior to class. If you miss contact hours due to illness you must make up missed sessions with private tuition at your own cost
This course is competency-based, which means there is no pass or fail
Assessments must be completed within the time frame specified and competency in teaching demonstrated, according to the criteria given in the assignment package, before your certificate will be rewarded
Refund/Withdrawal Policy:
$300 non-refundable deposit is due upon acceptance into the course
Final balance is due 4 weeks prior to course commencement unless a payment plan is in place
Withdrawal from training prior to two weeks before course commencement: 10% of the course fee is non-refundable
Withdrawal from training within two weeks of the course commencing: 50% of the course fee is non-refundable
Credit may be transferred to another teacher training program within two years of cancellation of the original course
Pricing Package and Payment Plan Options: Sign up for 350 or 500 Hour Teacher Training and receive significant discounts to regular tuition fees. Email Sarah at teachertraining@bodymindlife.com or call the studio on 02 9211 4111 ext 4 for information.
Training Facilities: Our dedicated training facilities will be your home for the duration of your journey. They feature light and spacious practice spaces, a Yogi Lounge for relaxation, secure lockers, and kitchen, bathroom and shower facilities. Located at Level 1, 84 Mary Street, Surry Hills they are a two minute walk from Central Station, a short train ride from Sydney Airport and close to public transport.
Testimonials
"Teacher Training at BodyMindLife taught me so much about myself. I realised that where I am is ok, that it's fine to go at your own pace – you will eventually get where you are supposed to be."
"The highlight of my training was meet an amazing group of people who were so supportive, giving and lovely. "
"Our teachers were such strong, beautiful individuals with an amazing wealth of knowledge. I hadn't realised how blessed we would be."
"Teacher Training at BodyMindLife taught me not to follow my fear or other people's expectations but to trust in myself and follow my dreams."
"It was such an amazing, challenging journey! It will benefit my whole life."
"Teacher Training was the best educational experience I've had. It was so well taught that I looked forward to it every day. I wish everyone had the opportunity to do this course. The world would be a better place."
"Teacher Training at BodyMindLife taught me not only how to be a yoga teacher but how to be a better person. It has helped me to connect with myself and others. One of the best experiences of my life."
"200 Hour Teacher Training at BodyMindLife was challenging, empowering and inspiring. I've made life-long friends, been inspired by my mentors and teachers, and found great personal growth."
"Be prepared – Teacher Training is a unique experience. I've never felt like this before."
"Difficult, transformational and totally worth it."
"I'm so grateful for the deep, transformational experience I had during 200 Hour Teacher Training at BodyMindLife."
Noelle Connolly
Head of Yoga
Noelle has a boundless curiosity for the practice, and is constantly driven to explore. She has a deep passion for inversions, harnessing the subtleties of the energetic body to defy gravity and move fluidly through space. Noelle's classes are strong, creative and intelligently sequenced. Created to engage, refine and inspire, they are set to a background of meticulously curated music. She likes her students to leave class feeling informed, empowered and rejuvenated.
VIEW PROFILE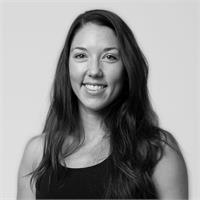 Kat Clayton
Kat brings an engaging, compassionate teaching style which radiates positive energy and warmth from the moment you step into her class. Skillfully weaving in dynamic sequencing, yogic philosophy and…
VIEW PROFILE
200 Hour Teacher Training: Full-Time October 2017
Surry Hills
84-86 Mary Street, Surry Hills NSW 2010
4th Oct, 2017 - 3rd Nov, 2017|07:00am - 05:00pm
$300 Deposit
$3290 Early Bird (Paid in Full by August 4th)
$3590 (Total Cost after August 4th)
Cancellation policy
Cancellation fees apply. Check out our policy here.
Can't pay upfront in one lump sum? No problem. We have payment plans available. Contact us on email teachertraining@bodymindlife.com to discuss your options.